To meet our diverse and demanding lifestyles, the world has seen furniture evolve throughout the ages. While trends have come and gone, some have remained timeless. Today, more than ever, modern furniture is everywhere. Yes, modern furniture is the new breed of furniture for 21st century lifestyle living, and it doesn't look like it's going anywhere anytime soon. Whether you're looking to change, complement or complete – here's what modern furniture can offer your modern home.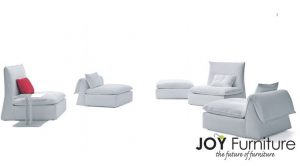 17Fashion a Trendy and Stylish Home with Just a Few Pieces
We're living in a time where our living spaces have become smaller, and as our spaces change, so do our needs for furniture. Moving away from complicated, not only in design but also in material, minimalism is the new trend in every modern home. Today, modern homes demand furniture that can take up less space, whilst still providing comfort, style and minimal effort to maintain, and that can only be found in modern furniture. While modern furniture should always emphasize function before form, a good piece will allow you to utilise minimum space to maximum efficacy. Moving away from heavy furniture and clutter, and using the least to achieve the most, one of the greatest advantages of modern furniture is that anyone can fashion a trendy, stylish and sophisticated home with just a few pieces.
Comfort is King
While grandeur may have once been the primary feature when designing furniture back in the 80s and 90s, in today's modern times, comfort is King. Modern furniture not only takes full advantage of all the latest techniques used for its creation, but it also uses all the latest and most cutting-edge materials available. From tubular to standard metals, glass, chrome and Perspex, they all combine effortlessly with leather, vinyl, canvas and fabric – these types of modern materials and fabrics allow the creation of crisp lines, pronounced edges, and smooth and comfortable textures.
Multifunctional, Practical and Portable
Whatever you can imagine can now easily be manufactured. While modern furniture is precision engineered with minimalism in mind, pieces are also engineered to be multifunctional, practical and portable. Designed to meet the needs of busy modern homes, as well as smaller living spaces, not only are designs simple, but pieces serve more than one purpose. Engineered to nest, stack, fold, or bend – modern furniture offers the luxury of additional hidden storage facilities where knick-knacks, books, valuables, clothing and electronics are always out of sight.
Offering a plethora of features where traditional furniture disappoints – modern furniture can be defined as precision engineered works of art that highlight minimalism, comfort, durability, style and function. Found in modern homes throughout South Africa, it has the mastery to define class and aesthetics in a way that will leave you with a sense of simplicity, balance and comfort. Whether you're looking for or an art deco upholstered chaise lounge to perk up your hallway or bathroom, a red leather mid-century couch to add personality to your living room, or a round post-modern monochrome leather bed to complete your bedroom – it's time you embraced the modern world with JOY Furniture.